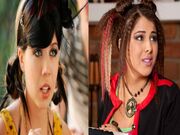 Bertha Adams

General Information
Gender:
Female
Age:
17
Color:
Black
Eye Color:
Brown
Occupation(s):
Student
Aliases:
Fred's Friend
Bertha is Fred's neighbor and she is the only person that is very nice to Fred , though in the web series she is more harsh. Bertha has crazy, colorful hair and dresses like she is part of a magical, evil circus.
Bertha is a girl that Fred meets in Fred Meets Bertha.
She is supposedly pretty and is a popular second-grader at Fred's school.
She is Fred's friend in Fred: The Movie
In the first movie she is Jennete McCurdy from iCarly, But in all subsequent appearances she is played by Daniella Monet from Victorious.